Accueil > Products > TouchConsoles for Sinapse Print Simulators
TouchConsoles for Sinapse Print Simulators




TouchConsole interface for printing simulators was introduced at the Chinaprint trade show in Beijing. This technology has made it possible for Sinapse to provide its users with the experience of press operation without the costs and constraints of a real press console.
The TouchConsole functions in the same way as a real press — the operator lays the print sample sheet or signature on to the console above the corresponding ink keys, and then makes adjustments. As the ink keys are adjusted on the TouchConsole, the changes are shown in the simulated output displayed just above them.
A major flexibility benefit is that the same TouchConsole hardware can be used to run different simulators. Interfaces are currently available for Sheetfed (Heidelberg SM) and Heatset (GOSS M600).
TouchConsole for
Sheetfed Simulator with
Heidelberg-SM–type interface.
1st industrial installation : July 2013
Download here the video coproduced by the Wordskills organization and the SENAI School presenting print activities on the WORDSKILLS stand with Sinapse touch console :
Availability of TouchConsole :
1. Available for the Sheetfed Simulator – Heidelberg SM version
2. Available for the Heatset simulator - GOSS M600 Omnicon version (see picture)
3. Available for Flexo
4. Available for Gravure
5. Not yet available for the Newspaper simulators.
TouchConsole for Heatset Simulator with
GOSS M600 –type interface
Technical Specifications :
Hardware required for the TouchConsole
3 touch screens from ELO Touch (all drivers are compatible, all screens can be touch calibrated)
1 ELO TOUCH42'' IntelliTouch : reference model 4243L
2 screens ELO TOUCH 19" : reference model 1915L
1 computer DELL : reference PRECISION 3620 or higher,
1 additional Touch Console software module from Sinapse,
(separate modules for each simulator)
Notes :
The same simulator license can be used on the TouchConsole (with additional Software module) or on the standard simulator confi gurations (1 or 2 monitors) on the same network.
It is necessary to have a large central screen so that the ink keys can be easy to use.
Sinapse does not support other hardware configurations for this Touch Screen Console.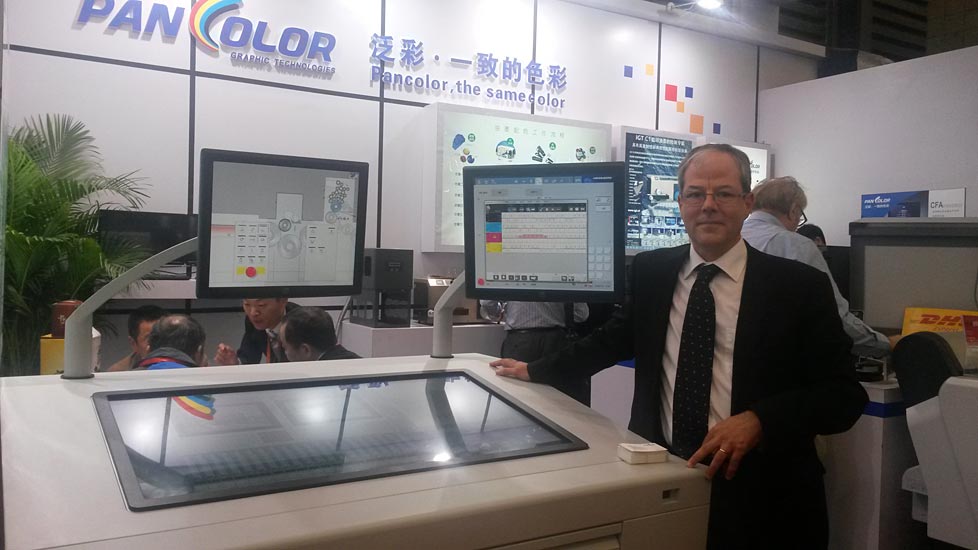 For more information please contact Thierry Mack at : thierry.mack@sinapseprint.com