Accueil > Français > Avantages des simulateurs > Applications dans l'enseignement
Applications dans l'enseignement
worldskill
Des centaines d'écoles et de centres de formation utilisent les simulateurs Sinapse dans le monde entier.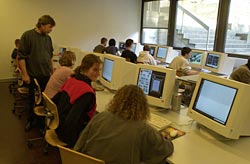 Nous vous proposons une courte présentation préparée par Mme Eva Paap, professeur à l'HdM de Stuttgart, l'une des plus grandes écoles d'Arts grahiques en Allemagne. Elle y décrit l'intégration dans leur programme de formation des 4 simulateurs offset feuille et des 2 simulateurs offset rotative que compte actuellement son école.
Why and How do simulators fit in a training program ? Find more details in this presentation done by Sinapse during the GATF Teacher's Conference in October 2008.


GATF Teacher's Conference October 2008